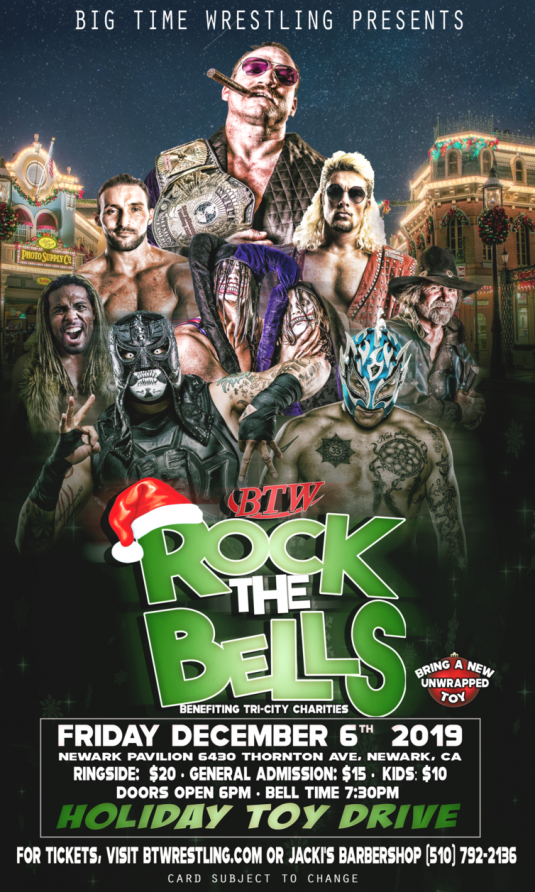 Dominic Teixeira defeated Ringo Starline
Devin Danger defeated Eddie Cuervo
Marcus Lewis defeated Brian Pillman Jr.
Shane Kody & Tony Vargas defeated Christopher Black & Kaka Meng
BTW Heavyweight Championship: Scotty Wringer defeated Chris Masters by count-out.
The Lucha Brothers (Pentagón Jr. & Rey Fénix) defeated The Freaks (Jeckles & Jinxx)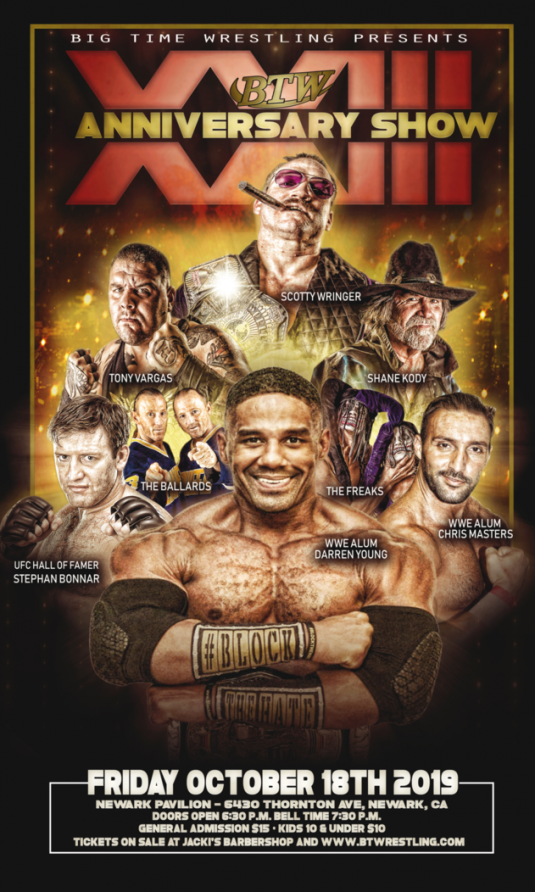 Derek Slade (w/Lucian D. Light) defeated Titus Alexander
Marcus Lewis defeated Devin Danger
BTW Tag Title: The Freaks (Jinxx & Jeckles) defeated The Ballard Brothers (Shane & Shannon Ballard) to retain.
Tony Vargas defeated Stephan Bonnar by DQ
Clint Steele & Shane Kody defeated Rik Luxury & Shaun Sims
Fred Rosser defeated Kaka Meng
BTW Heavyweight Championship: Chris Masters defeated Scotty Wringer by DQ. Wringer retains.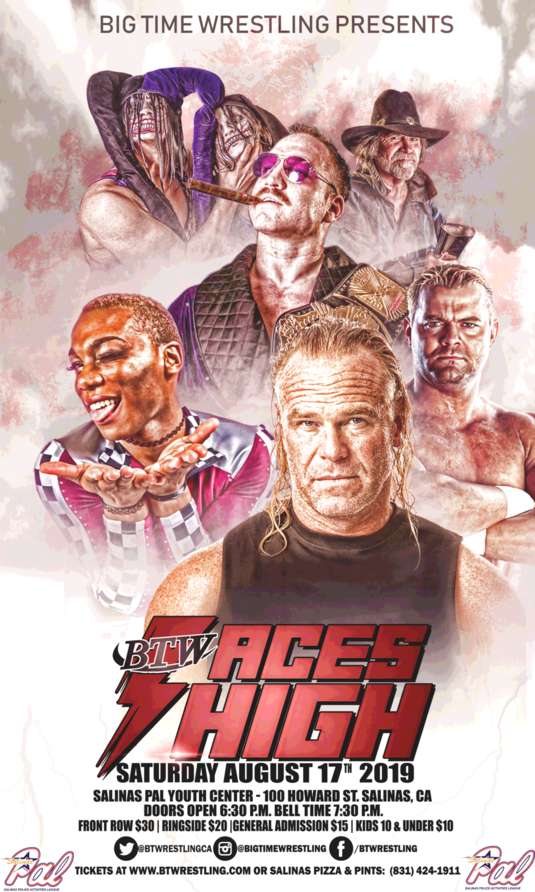 Cowboy Charlie & Shane Kody defeated Bruno Beretta & Joey Gonzo
BTW Tag Team Championship: The Freaks (Jinxx & Jeckles) defeated The Bite Club (Devin Danger & Shaun Sims)
Sonny Kiss defeated Marcus Lewis 
Tony Vargas defeated Davey Boy Smith Jr by DQ
BTW Heavyweight Championship: Scotty Wringer defeated Sledge
Billy Gunn defeated Kal Jak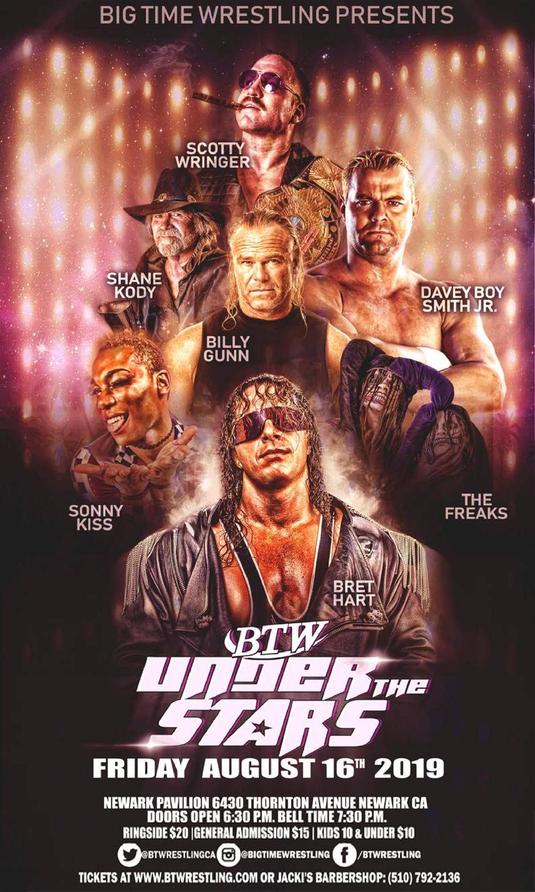 Dominic Teixeira defeated Derek Slade (w/Lucian D. Light)
The Bite Club (Tony Vargas, Devin Danger, & Shaun Sims) defeated The Freaks (Jinxx & Jeckles) & Shane Kody 
Sonny Kiss defeated Marcus Lewis 
Davey Boy Smith Jr. defeated JR Kratos
BTW Heavyweight Championship: Scotty Wringer defeated Sledge
Billy Gunn defeated Kal Jak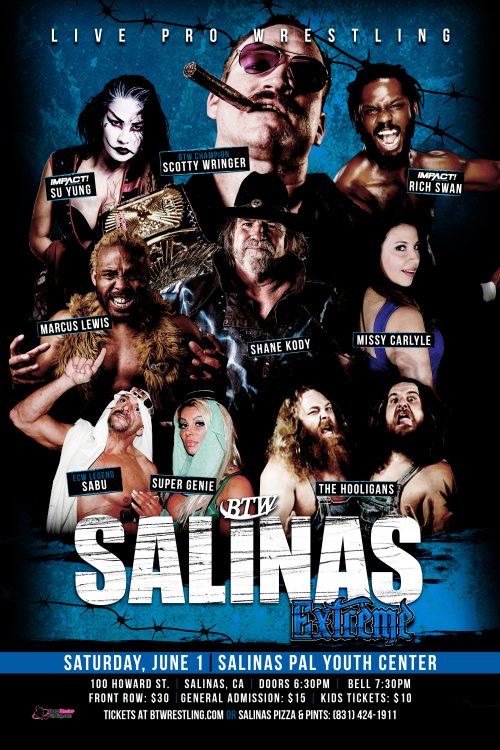 Jheri Giggalow defeated Truex
BTW Tag Team Championship: The Freaks (Jeckles & Jinxx) defeated The Hooligans (Devin Cutter & Mason Cutter)
Three Way Match: Samara defeated Luscious Latasha and Su Yung
Sabu defeated Tony Vargas
Shane Kody, Alex Herzog, and Jules (c) defeated The Bite Club and Missy Carlyle
BTW Heavyweight Championship: Scotty Wringer defeated Dave Dutra
Impact X-Division Championship: Rich Swann defeated Marcus Lewis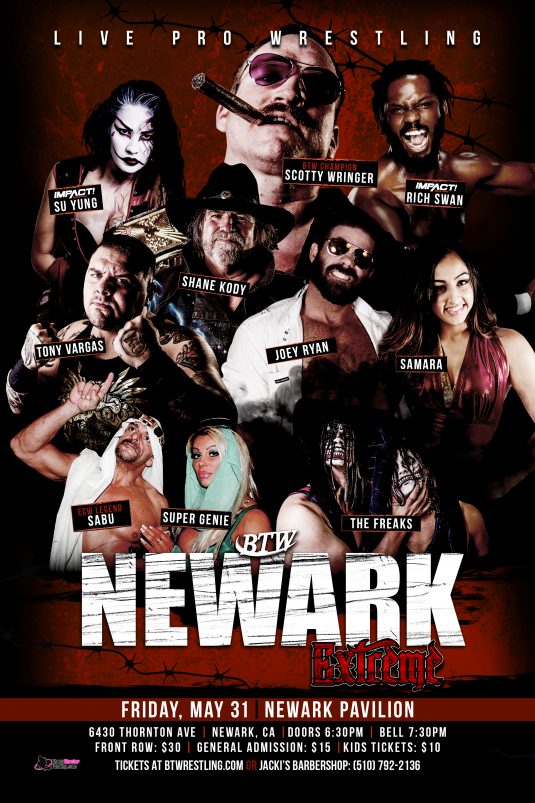 Joey Ryan defeated Jheri Giggalow
BTW Tag Team Championship: The Freaks (Jeckles & Jinxx) defeated The Hooligans (Devin Cutter & Mason Cutter)
Su Yung defeated Samara
The Bite Club (Devin Danger & Shaun Sims) defeated Shane Kody and Alex Herzog
BTW Heavyweight Championship: Scotty Wringer (c) defeated Dave Dutra
Marcus Lewis defeated Rich Swann.
**Earns title shot at Impact Wrestling X-Division Championship**

Sabu defeated Tony Vargas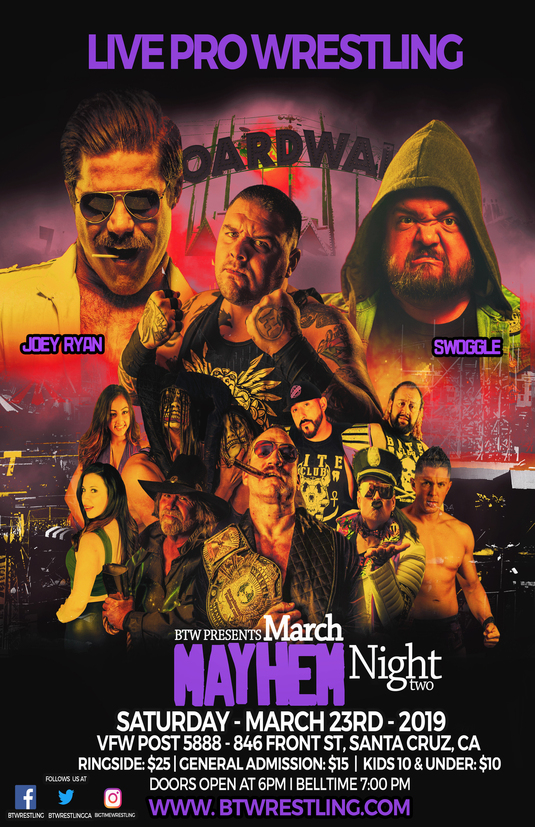 Joey Ryan defeated Dave Dutra
Calder McColl defeated Eddie Cuervo
Shane Kody & Swoggle defeated Jheri Giggalow and Julio Pedroza
Missy Carlyle defeated Samara
BTW Tag Team Championship: The Freaks (Jeckles & Jinxx) defeated The Bite Club (Devin Danger & Shaun Sims)
BTW Heavyweight Championship: Scotty Wringer (c) defeated Tony Vargas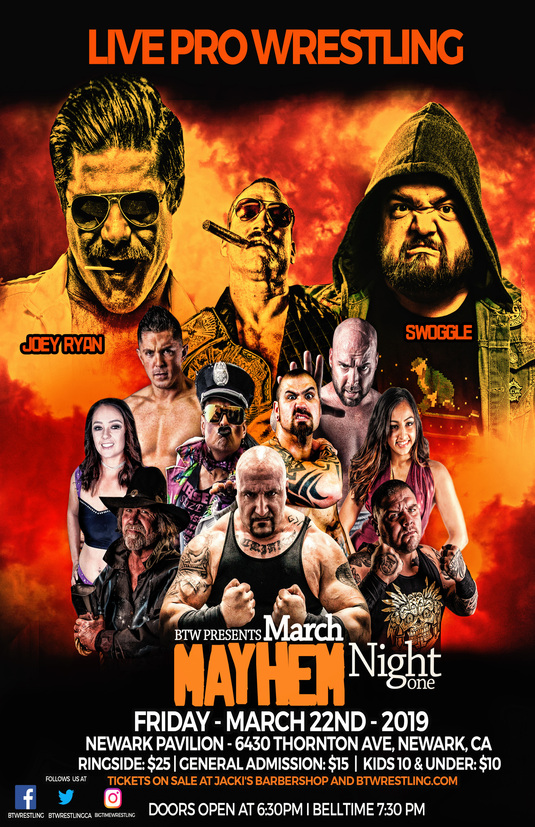 Dave Dutra defeated Mike Matthews and Rik Luxury
Samara defeated Missy Carlyle
Shane Kody & Swoggle defeated The Bite Club (Devin Danger & Shaun Sims)
Tony Vargas defeated Jheri Giggalow
JR Kratos defeated Sledge
BTW Heavyweight Championship: Scotty Wringer (c) defeated Joey Ryan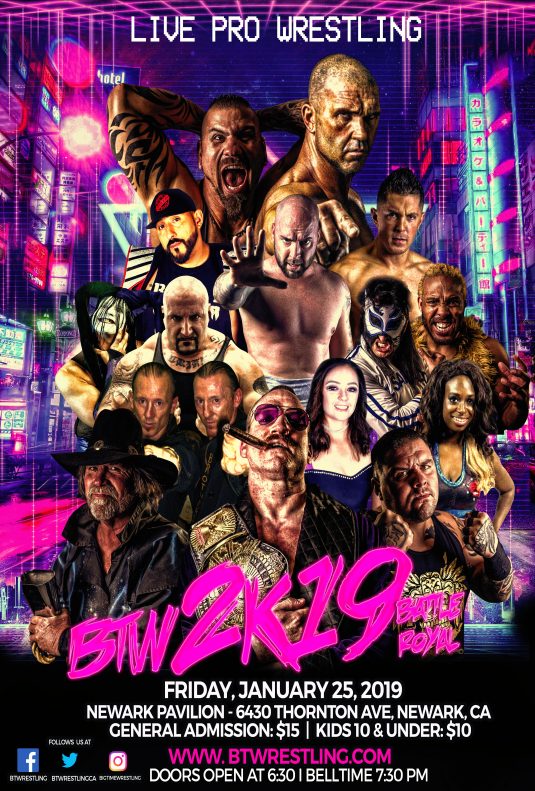 Tony Vargas wins 18-man Over the Top Battle Royal
El Guerrero & Shane Kody defeated Jeckles & Johnny Cuervo
Jules defeated Luscious Latasha
Commando defeated El Hijo del Eclipse
Jheri Giggalow defeated Rik Luxury
Marcus Lewis & Mike Matthews defeated The Bite Club (Devin Danger & Shaun Sims)
Frankie Kazarian, Dave Dutra, and Sledge defeated The Ballard Brothers (Shane Ballard & Shannon Ballard) and JR Kratos
BTW Heavyweight Championship: Scotty Wringer (c) defeated Tony Vargas by DQ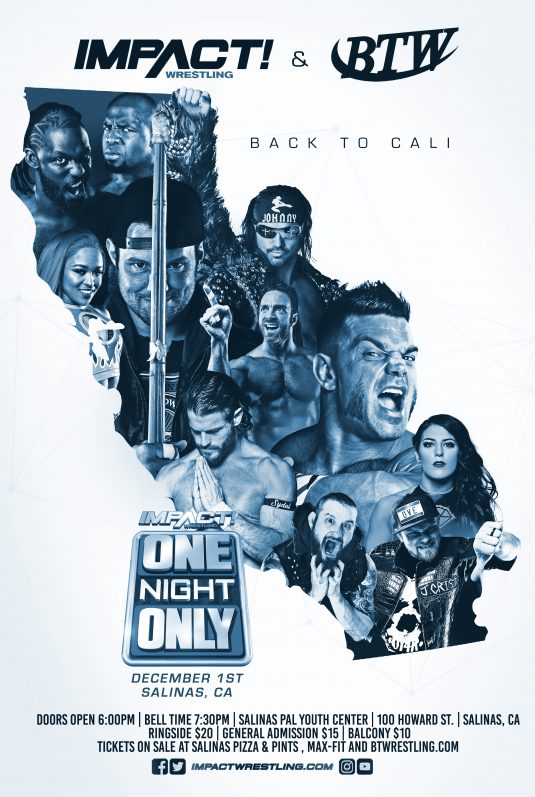 Eddie Edwards defeated Marcus Lewis
Calder McColl defeated Kaka Meng
Jules defeated Lisa Lace
Eli Drake defeated Sledge
Scotty Wringer defeated Tony Vargas
Brian Cage & Rich Swann defeated oVe (Dave Crist & Jake Crist)
Impact Knockouts Championship: Tessa Blanchard (c) defeated Kiera Hogan
Impact World Championship: Johnny Impact (c) defeated Moose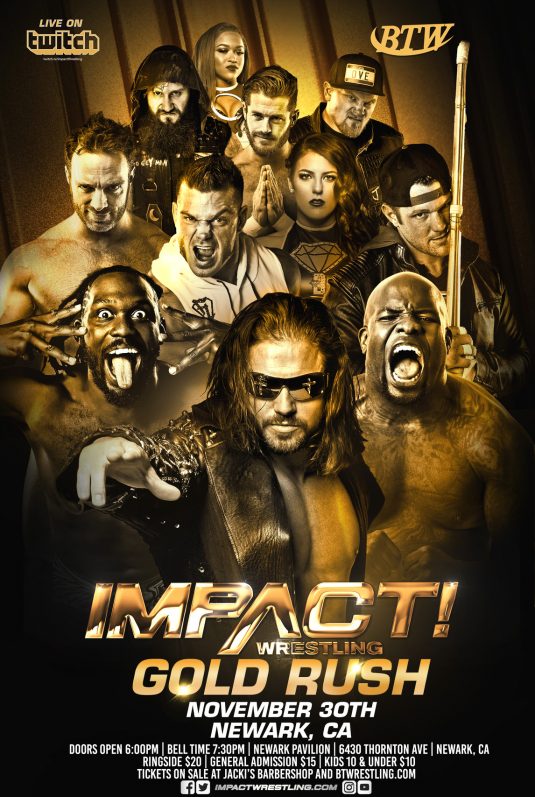 Eddie Edwards defeated Scotty Wringer
Rik Luxury, Shane Kody, and Sledge defeated Tony Vargas, El Guerrero, and Kaka Meng
Rich Swann defeated Marcus Lewis
The Freaks (Jeckles & Jinxx) defeated oVe (Dave Crist & Jake Crist)
Brian Cage defeated Moose
Impact Knockouts Championship: Tessa Blanchard (c) defeated Kiera Hogan
Impact World Championship: Johnny Impact (c) defeated Eli Drake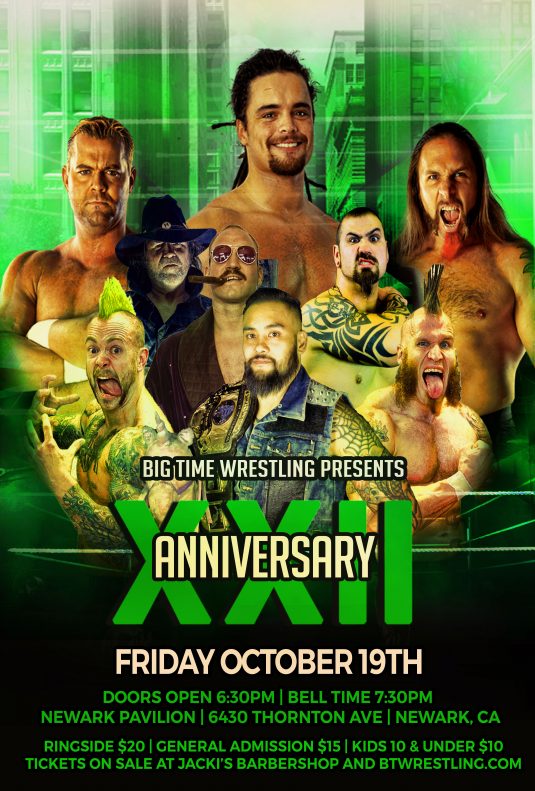 Tony Vargas defeated Devin Danger
Sledge defeated Jeckles
Jules & Shane Kody defeated El Guerrero & Lisa Lace
Jinxx defeated Kaka Meng
Juice Robinson defeated Calder McColl
Scotty Wringer defeated Kimo to become BTW Heavyweight Champion
The Killer Elite Squad (Davey Boy Smith Jr. & Lance Archer) defeated Reno Scum (Adam Thornstowe & Luster The Legend)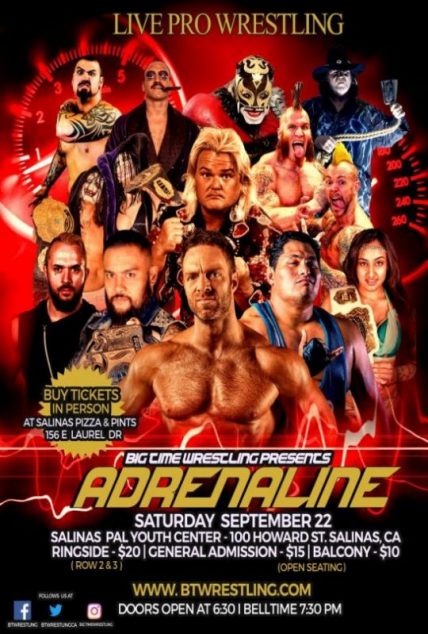 Eli Drake defeated Sledge
BTW Heavyweight Championship: Kimo defeated Scotty Wringer and Tony Vargas to retain the championship
Puma King defeated Calder McColl
Jeff Cobb defeated Kal Jack
Due to injury, Samara relinquished the BTW Women's Championship
BTW Tag Team Championship: The Freaks and Reno Scum ended in a double count-out
Shane Kody & Jules defeated El Guerrero & Jimmy Saint
Kaka Meng defeated Angel Hijo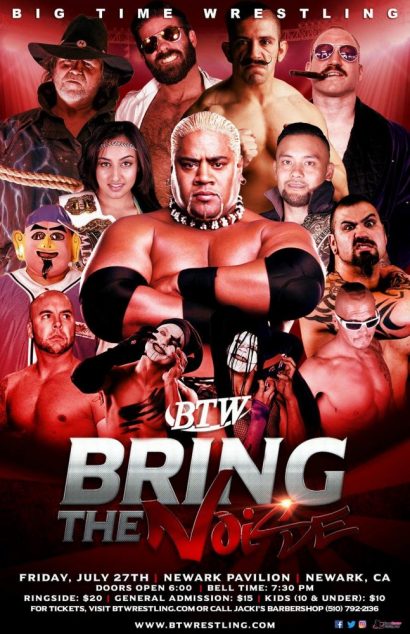 Samoan Dynasty defeated El Guerrero, Kaka Meng, and Devin Danger
Simon Gotch defeated Kal Jack
BTW Heavyweight Championship: Kimo defeated Jack Madison and Tony Vargas to retain the championship
Scotty Wringer defeated Sledge
Joey Ryan defeated Kikutaro
BTW Tag Team Championship: The Freaks defeated the Classic Connection to retain the championship
Shane Kody & Jules defeated Chris Black & Samara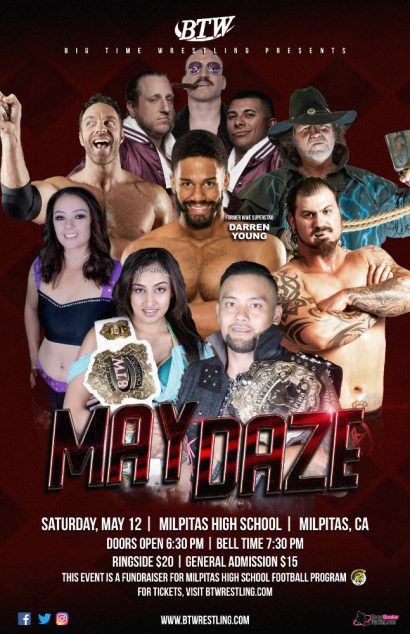 FKA Darren Young defeated Rik Luxury
Eli Drake defeated Mike Matthews
El Guerrero & Kaka Meng defeated Jack Madison & Shane Kody
BTW Women's Championship: Samara defeated Jules to retain the women's championship
BTW Tag Team Championship: Jeckles the Jester & Jinxx defeated the Classic Connection to
become the new BTW Tag Team Champions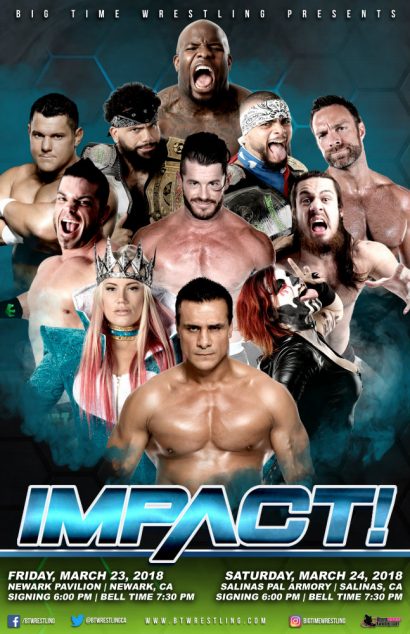 Alberto El Patron defeated Moose
Eli Drake defeated Kimo 
Impact X-Division Title Match: Matt Sydal defeated Eddie Edwards
Impact World Tag Team Championship: LAX defeated Reno Scum
Impact Knockouts Championship: Allie defeated Taya Valkyrie
James Ellsworth defeated Trevor Lee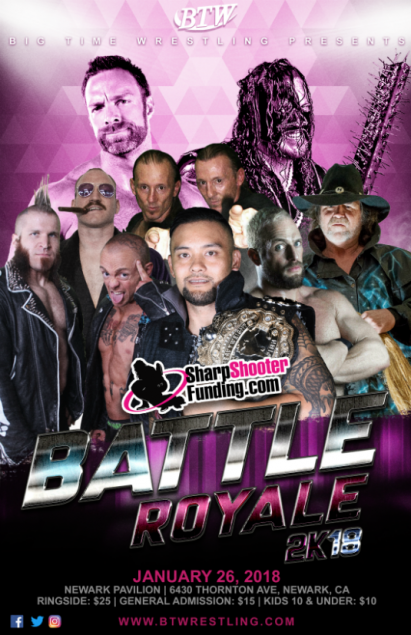 BTW Women's Championship: Samara defeated Shotzi Blackheart to win the vacant BTW Women's Championship
3-On-2 Handicap Match: Abyss & Jules defeated Alina, Christopher Black and Devin Danger
BTW Tag Team Title Four Way: The Classic Connection defeated the Ballard Brothers, Reno Scum, and Karl Fredericks & Rik Luxury to retain the BTW Tag Team Championship
BTW Heavyweight Championship Four Way Match: Kimo defeated Eli Drake, Royce Isaacs, and Sledge to retain the BTW Heavyweight Championship
Sharpshooter Funding Battle Royal Winner: Scotty Wringer

Clint Steele & Jules defeated Devin Danger & Alina
Kal Jack defeated Wiseguy
Mike Matthews defeated Scotty Wringer
Brian Cage defeats Sledge
Classic Connection defeated the Ballard Brothers (with Missy Carlyle) to retain the BTW Tag Team Championship
Rik Luxury (with Donovan Troi) defeated Kimo by countout, but Kimo remains BTW Heavyweight Champion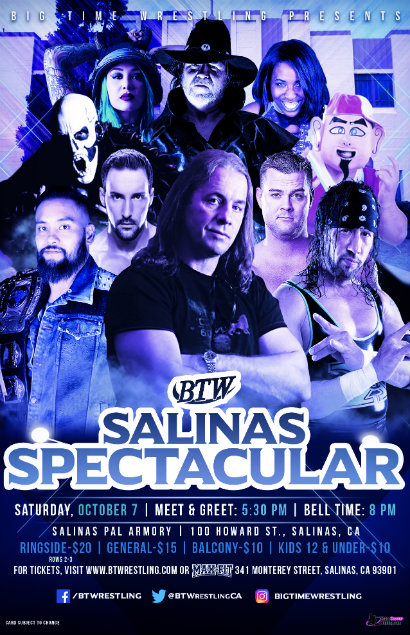 Shannon Ballard defeated Kikutaro
Sledge defeated Wiseguy
Chico Navarro defeated Clay Jack
Chris Masters defeated Devin Danger
Dementia D'Rose defeated Shotzi Blackheart to retain the BTW Women's Championship.
Xpac & Shane Kody defeated Shane Ballard & Clint Steele (with Missy Carlyle)
Kimo defeated Funny Bone to retain the BTW Heavyweight Championship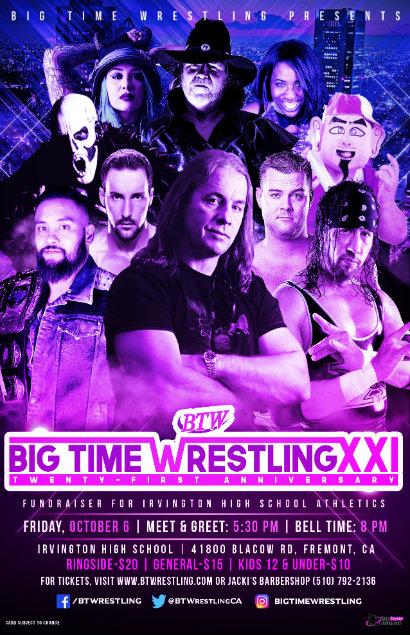 Kikutaro defeated Shannon Ballard
Funny Bone defeated Mike Matthews
Classic Connection defeated Reno Scum to retain the BTW Tag Team Championship
Chris Masters defeated Sledge
Dementia D'Rose defeated Shotzi Blackheart to retain the BTW Women's Championship.
Xpac/Shane Kody/Chico Navarro defeated the Ballard Brothers (with Missy Carlyle) & Devin Danger
Kimo defeated Rik Luxury (with Donovan Troi) to retain the BTW Heavyweight Championship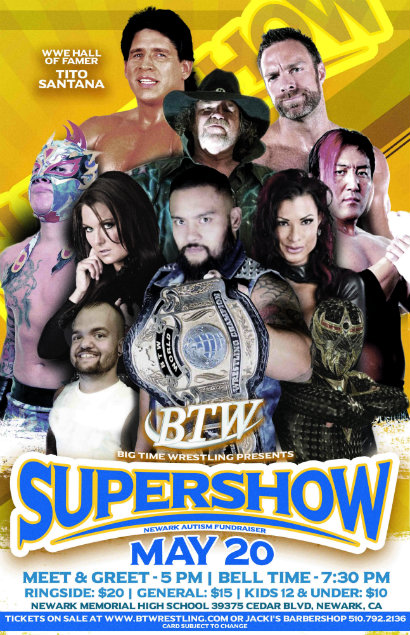 Jinxx defeated D'Rogue
Jack Madison & JT Hollister defeated Christopher Black & Steele
Tony Vargas defeated Synn to retain the BTW US Championship
Lisa Marie Varon defeated Katarina Leigh
Rey Fénix defeated Marcus Lewis
Swoggle defeated Mutant Turtle
Tito Santana & Shane Kody defeated El Guerrero (w/Missy Carlyle) & Chico Navarro
Kimo defeated Eli Drake and Yoshi Tatsu in a Three-Way Dance to retain the BTW World Championship (Main Event)